Craig Holm Guest House
7 Queens Terrace Scotland
Tel: 01292261470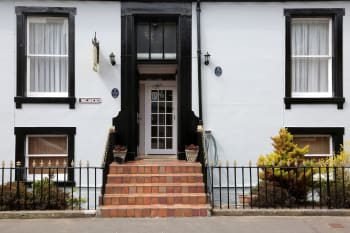 This fine example of a Victorian terraced house in the charming Queen's Terrace, Ayr has received comprehensive refurbishment, and offers to guests well-appointed accommodation, excellent service and appetising breakfasts. Our well-established Bed and Breakfast is located only a few metres from Ayr's fine beach and esplanade.Though close to the beach, Ayr town centre is a mere five minute stroll away from Craig Holm. Good bars, restaurants and sports and entertainment facilities are readily found locally. Each guest room has been refurbished in mid 2014 to provide comfortable, tasteful rooms with wifi connectivity, flat screen TVs and en-suite facilities. The upgraded décor and furnishings enhance our delightful and pristine accommodation, and three of our rooms enjoy uninterupted sea views across the Clyde to the Island of Arran.
Availability
There are no rooms available at Craig Holm Guest House
for these dates.
Please try other dates or select a
different property
.
rooms
Facilities
Breakfast Room
Children Welcome
Early Breakfast By Arrangement
Fax/Email Facilities
Internet Access
Policies
Check In: Between 14:00 and 22:00
Check Out: Between 10:00 and 10:00
Wi-fi: Wireless internet is available and is free of charge.
Smoking: There is no smoking permitted anywhere within the property.
Parking: On street parking is available and is free of charge. Parking is available nearby and is free of charge.


Children: Children of all ages are welcome.
Pets: Pets are not allowed.
Groups: All groups are accepted.
Average
4.7
out of 5
32 reviews
100% recommend
Reviews
14th September 2015:

Good location, but difficult to find at first. A map would have helped, but the GPS worked.
Tips:
Robbie Burns country. A great former church now a restaurant. Easy access to the water front.
Would Recommend: Yes
12th August 2015:

Would Recommend: Yes
10th August 2015:

We loved our stay at the Craig Holm. Our host Magda was the kindest, making us feel welcome and walking the extra mile for her guests, from calling the cab service to suggesting restaurants and making a little exception with our breakfast time schedule. The room was confortable and clean, very spacious and with a nice view on the street. The bed was the coziest ever!
Tips:
We enjoyed the italian restaurant near the b&b, Cecchini
Would Recommend: Yes
10th August 2015:

Wonderful little place but the reason this place is so awsome is down to one thing and that's Magdalena x this fab lady makes you feel so welcome and cannot do enough for you , she is a credit to the owners and her alone is the reason we would go back as she makes the place stand out from the rest x
Would Recommend: Yes
2nd August 2015:

The staff member was very helpful and accommodating; the room had a lovely sea view and was comfortable; suggest using electric air freshener for a time before guests arrive, as room did have a fusty smell when windows closed [used by smokers in the past?]; as with all B&Bs in UK, they are overpriced [c.f. I stayed the week before in hotel in Central Madrid for less];
Tips:
Walk along promenade is great;
Would Recommend: Yes
3rd July 2015:

Good location one street back from the beach and a great view of the sunset over Arran from the room. A friendly welcome, clean and comfortable room and an excellent breakfast. Magdalena is a delight.
Tips:
The Italian restaurant nearby,Cecchini's, recommended by Magdalena was excellent.
Would Recommend: Yes
7th June 2015:

Would Recommend: Yes
12th May 2015:

great seaside location wonderful staff definitely recommending!
Tips:
best fish and chips shop in town (ask staff for details)
Would Recommend: Yes
8th May 2015:

Lovely room with sea view and Magdalena was a wonderful hostess.
Would Recommend: Yes
17th March 2015:

Lovely warm and friendly. Magda is a credit to the guest house.she works extremely hard. We would of liked a bath in the en suite. That is the only down side to the place. Very good value for money. !
Tips:
Magda can recommend some lovely places to eat. Just ask
Would Recommend: Yes
25th September 2014:

Homely
Would Recommend: Yes
24th September 2014:

Magdelana was fantastic and provided us with a delicious Scottish breakfast every morning! She steered us to some great restaurants nearby for dinner. She goes out of her way to make your stay pleasant!
Would Recommend: Yes
26th July 2014:

The lady gave us a very warm welcome and showed us to our rooms which were spotless. Her cooking and manners were exceptional. Please thank her again on our behalf.
Tips:
The Italian restaurant Chilini,s is a must visit for any guests, the meal was fantastic.
Would Recommend: Yes
15th June 2014:

Instant coffee for breakfast was not up to standards and having to wait until 9:00 for breakfast was not good. Otherwise, very nice.
Tips:
Magdallena was very helpful in this regard.
Would Recommend: Yes
27th May 2014:

Would Recommend: Yes
27th May 2014:

Would Recommend: Yes
12th May 2014:

Excellent stay, but the walls between Room 1 and Room 2 were too thin. Full compliments to Magdalena who could not do enough for us.
Tips:
Culzean Castle, Robert Burns Museum
Would Recommend: Yes
6th May 2014:

Would Recommend: Yes
18th February 2014:

From arrival to departure our stay at Craig Holm Guesthouse was excellent. We were greeted by Magda who was so helpful and nothing was too much trouble. She was very accommodating with special requests from us and always with a smile on her face! I would definitely recommend this Guesthouse to anyone looking for amazing value for money in a beautiful room and with the added bonus of a very tasty full English breakfast!
Tips:
The high street in Ayr has all the shops you could possibly need for last minute buying to attend a wedding!
Would Recommend: Yes
24th September 2013:

Would Recommend: Yes
23rd September 2013:

room a bit on small side Magdalena very friendly very clean ideal location thank you
Would Recommend: Yes
2nd September 2013:

Because of a sudden cold snap, the lack of heating was a big problem for one of our party. However it is only on rare occasions that the central heating needs to be switched on by the last day in August.
Would Recommend: Yes
10th August 2013:

Booking was very easy would use again
Tips:
Close to beach close to shops and restaurants
Would Recommend: Yes
3rd August 2013:

Would Recommend: Yes
1st August 2013:

Good clean B&B hearty breakfast.
Tips:
5 mins walk from best Indian restaurant ( Ayr India ) in Ayrshire.
Would Recommend: Yes
18th May 2013:

Thank you for a wonderful stay. The view from the room window was just fantastic, with stunning views over Arran.
Tips:
The pubs and restaurants in Ayr are generally quite poor. The best value for money is the Wetherspoon's on the Sandgate (5 minutes' walk), with good real ales and reasonably-priced food. The Burns' Monument Hotel at Alloway (if you are doing the Burns' trail) is a big disappointment, given its superb location. Do not expect good food, real ales, or decent service. It is surely a huge opportunity wasted by the owners.
Would Recommend: Yes
2nd April 2013:

very couteous and helpful excellant value for money delicious cooked breakfast Shower not at a good height and angle Toilet did not flush easily
Tips:
Culzean Castle and grounds Alloway Tea Tree restaurant - good meal & service The Berkley Hotel - good selection of cocktails - pleasant & attentive service
Would Recommend: Yes
11th March 2013:

immaculate guest house, lovely room with beautiful views. stayed before and will definitely stay again.
Tips:
Cecchini's Italian Restaurant just along the road at Wellington Square, terrific value for money, fantastic food.
Would Recommend: Yes
2nd September 2012:

GREAT b@b MAGDA MADE US FEEL REALLY WELCOME ROOMS LOVELY,THIS WAS OUR SECOND STAY AND WE WILL DEFINATLY BE BACK FOR A THIRD
Would Recommend: Yes
13th August 2012:

we stayed overnight in room 4 the decor was lovely and room was spotless,we had a nice breakfast in the morning and magda is lovely and very welcoming would highly recommend
Tips:
good location for beach and kids play area
Would Recommend: Yes
25th July 2012:

Would Recommend: Yes
7th June 2012:

We loved the friendliness of Magda, she was brilliant. Our rooms were clean and well decorated with beautiful sea views. Breakfast was tasty and plentiful. The only point we could have improved on were the bathrooms which were very small, with a toilet seat that slipped off the bowl and a shower with very poor power.
Tips:
Cecchinis on Wellington Square was lovely - great food, family friendly and in walking distance so you can enjoy the wine!
Would Recommend: Yes
.